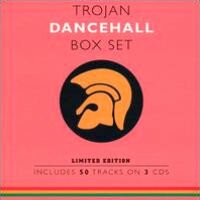 TROJAN DANCEHALL BOX SET (TRBCD023) - In 1979, when the late producer Henry 'Junjo' Lawes took Barrington Levy into the studio, he probably had no idea he was launching a whole new style of Jamaican music. But the rhythms he created, along with the musicians who would go on to become the Roots Radics, inspired the Dancehall craze. Between then and 1985, when Digital rhythms arrived, Dancehall reigned supreme. A whole new generation of mainly young singers launched their careers, and several new producers rose to prominence. Channel One continued as the studio of choice for recording rhythm tracks, with King Tubby's being used for voicing and mixing. This box set presents fifty examples of the genre, giving a varied overview of the music.
We start this collection with two takes on the M16 rhythm (which started life as Secretly by the Uniques), featuring an instantly memorable horn riff. Indeed, the rhythm gained another lease of life during 1999, providing the backing for a number of contemporary hits. Apart from sharing a surname, Barry Brown and DJ U. Brown both lick over updates on the Just Say Who rhythm, first done by Horace Andy at Studio One. U. Brown also rides a scorching rhythm on Midnight Confession, which features the keyboard genius of Jackie Mittoo. A further pair of rhythm versions appear courtesy of toasters Johnny Slaughter and Tipper Lee, the former showing his versatility by also providing the vocal cut. The rhythm continued to be popular in the nineties, providing hits for a number of artists (including Frankie Paul with Stuck On You). And while we're mentioning DJ's, Yellowman emerged as one of the most popular in the dancehall era. On Donkey Want Water he teams up combination style with Fathead - a track lifted from Trojan's forthcoming (at time if writing) Strictly Rub-A-Dub compilation (CDTRL 439).
One of the most notable aspects of Dancehall, has been the wide use to which a single rhythm can be put. This is particularly true with regards to older rhythms, and more especially those originally cut at Studio One and Treasure Isle. Recut and updated, they have provided the foundation for many newly inspired interpretations, and continue to do so today. The year 2000 kicked of with the Techniques' You Don't Care rhythm enjoying a welcome revival, thanks to producer Bobby Digital, together with new takes on the Only A Smile , and Thank You Lord rhythms to name just a few. This second disc is devoted to the "versioning" phenomenon. It showcases three of the most popular recuts from the Dancehall era, in a DJ friendly "rhythm rampage" style (mix and segue them any way you like!).
We start and finish with sets on the Shank I Sheck rhythm. With the exception of Toyan's Right Time, the others all saw inclusion on the Tad Dawkins one rhythm album Shank I Sheck. Two further cuts from Dennis Brown and Delroy Smith, can be found on Trojan's Dancehall Explosion compilation. The sequence opens with a cut dominated by ace saxophonist Dean Fraser. Three vocal pieces follow, from Dancehall stalwarts Lincoln "Sugar" Minott, Tristan Palmer, and the under recorded Ital Vibes. The final sequence features three of the many DJ cuts, together with the essential King Tubby's mix. The Real Rock and Heavenless rhythms were both created at Studio One, by the Soul Vendors and Don Drummond respectively. Both have been recut numerous times, and we've included four cuts of each here. A fifth piece of Real Rock by John Wayne (You Too Greedy), can be found on Trojan's Dancehall Stylee, whilst Dub cuts to Heavenless and Shank I Sheck can be found on Burning Sounds label (check out releases CDBS 560, 561 & 562).
If you're not yet familiar with early Dancehall, and just catching up on the genre, then this current box set should provide the perfect introduction. Having showcased a variety of talent on Disc 1, and explored popular rhythms on Disc 2, this third disc has been compiled mainly as a sampler for Trojan's Dancehall Series. Thus far the company has issued four sets, with a DJ collection about to hit the shops, and the promise of more to come. One of the most important factors in Dancehall's success, must surely be the distinctive rhythm tracks created by the Roots Radics (regardless of which producer they were working for). The band's talents were showcased on the Dancehall Series release King Tubby's Rockers (CDTRL 415), from which we have lifted four tracks mixed by Scientist. In addition, although Lovers Rock is identified solely as a UK creation, there were plenty of love songs recorded in the Dancehall style. Twenty two examples of the latter appear on the compilation Let's Go To The Blues (CDTRL 417). The cuts from Anthony Johnson, Michael Palmer, Neville Mitchell, and the title track being samples here.
With the exception of Cuss Cuss, the remaining tracks have all been lifted from the multi aspect collections Dancehall Stylee (CDTRL 416), and the sequel Dancehall Explosion (CDTRL 430). Both contain a selection of rhythm versions, and we've included examples here. Lazer Beam and Nuff Stylee (recuts of the Midnight Hour rhythm) come from the former, whilst The Right time and King On The Way are lifted from the latter. Unlike the other tracks, the aforementioned Cuss Cuss is not currently available elsewhere on Trojan. Originally recorded in 1968 for Harry J, this is the eighties remix which proved to be a big hit. If you enjoyed the music on this box set, then we hope you will investigate the other releases we've mentioned, if you haven't done so already.
Chris Pete (Let's Catch The Beat)
Island In The Sun
Peter Ranking & General Lucky
Raindrops Keep Falling
Philip Fraser
A Man Is King
Mike Brooks
Your Love Is Real
Barry Brown
No Watch That
U. Brown
Wise Man
Winston Jarrett
My Brethren Party
Don Carlos
One Heart
Mike Brooks
Confusion
Johnny Slaughter
Poor Man
Tipper Lee & Johnny Slaughter
Sensie Man
Mike Brooks
Midnight Confession
U. Brown
I'm Hurting Inside
Winston Jarrett
Donkey Want Water
Yellowman & Fathead
World Of Confusion
Michael Prophet
Detour
Viceroys
Touch Me Take Me
Tristan Palmer
Shank I Sheck
Dean Fraser Featuring Sister Candy
Shank I Sheck
Sugar Minott
Shank I Sheck
Ital Vibes
Shank I Sheck
Tristan Palmer
Ababa John I
Don Carlos
Sandra Lee Buys Big House For Me
Purpleman
Obey Your Mother And Father
Simple Simon
Ram-A-Jam
General Lucky & Peter Ranking
Heavenless
Dean Fraser
Trod Along Natty Dreadlocks
Neville Brown
Got To Tell The People
Cornell Campbell
Friday Night Jamboree
Jah Thomas
Shank I Sheck
U Brown
Right Time
Toyan
Shank I Sheck
Ranking Joe
Shank I Sheck
King Tubby's
Cuss Cuss
Lloyd Robinson
The Right Time
Neville Brown
King On The Way
Purpleman
A Friend In Need
Roots Radics
Get Out Of Hand
Neville Mitchell
Sweet Reggae Music
Barrington Levy
Let's Go To The Blues
Barry Brown
King Tubby's Rockers
Roots Radic
Bad Company
Earl Sixteen
The World And It's People
Derrick Pitter
Patrolling
Roots Radics
Angela
Michael Palmer
Collie Weed
Barrington Levy
Baby Your Loving
Anthony Johnson
Second Hand Girl
Roots Radics
Laser Beam
Don Carlos
Nuff Stylee
Poppa Tollo