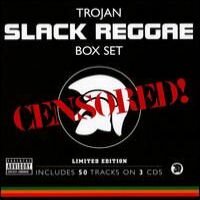 TROJAN SLACK REGGAE BOX SET (TJETD348) - If you follow history you'll probably know the sea shanties sung by the pirates of the Caribbean are widely perceived as Jamaica's introduction to songs of a saucy nature. the tradition has continued to this day and, as a reflection of the times, the music featured on this collection of dirty ditties pushes the boundaries even further. Rather than the almost 'nursery rhyme' innuendo of yesteryear - if you excuse the pun - these tunes are more in-yer-face.
Besides, if any of these three discs have hit the decks and you've pressed the play button, you will no doubt have noticed that some quite obscene profanities are in abundance. There is an interesting array of terminology that you will have no doubt noticed, but for those unfamiliar with the lexis, I'm sure you soon get the drift.
You will hear some of Jamaica's top performers including Beenie Man, Ranking Joe and gospel Fish, as well as the unique production style of David (Tapper Zukie) Sinclair, leaving very little to the imagination. the tunes are selected from the dancehall or digital era and to paraphrase the previous 'X Rated Box Set' (TJETD048), this "collection of Jamaican naughtiness" comes with a WARNING FOR PARENTAL GUIDANCE!
Our opening track features Derrick Morgan alongside his brother-in-law, producer, Bunny 'Striker' Lee, who discusses the late General Echo's 'Slackest LP In The World' album. In his introduction, Striker affirms that "this are the slackest and the rudest and the baddest LP ever make" - something that applies more to this box set than even the duo's original release. Both Derrick and Bunny were at the forefront of rude Reggae scene, which inspired them to record in the slackness style. They sought to set the record straight and were out to prove that they were "slacker than them". 'She Can't Tek It' certainly proves that the duo could be as crude as the rest of them, particularly when they keep up the momentum with 'I'll Give My Cock To You', voiced over none other than Bob Marley's 'Waiting In Vain' rhythm. Whether Jamaica's first international superstar would have approved will never be known, although there will be many who consider this sacrosanct. It could be argued that Bob was not averse to recording suggestive lyrics - 'Kinky Reggae' and 'Stir It Up' spring immediately to mind. But the duo certainly did not believe in double entendre, as demonstrated on the epic 'Slackest Medley In The World' which encompasses a catalogue of bawdy tunes. Their final contributions to this festival of slackness are 'I Come To Grind Your Daughter', King Dong' and the unusual interpretation of the celebrated Tennors hit 'Ride Your Donkey' renamed 'Ride Mama Fanny'.
Moving on, we find the self-styled Doctor aka Beenie Man in fine style with the manic 'Lift It Up', 'Weeping And Moaning' and an ode to 'Miss Angela'. The aforementioned Bunny Lee, who recorded Beenie Man's album debut 'The Ten Year Old DJ Wonder', produced the third and final track from the good Doctor, which contradicts the producer's opening assertion that "no under sixteen no a fi listen to this blood claat here y'know". The song 'Boney Punani' finds the young performer complaining about something that you'd have thought would not be worrying most ten year old boys, but then they grow up so fast nowadays. Nevertheless, as his career developed, the suitably matured DJ 'wonder' recorded the massive hit 'No Mama No cry', inspired by the murder of fellow DJ Pan Head and which can be found on the well received compilation 'Cool Cool Rider' (TJACD197).
Another DJ who met with a premature passing was Poison Chang, who features on this collection. His performance of 'Gal Skin Out', originally appeared on the long since deleted International Slackness album and demonstrates how he like Pan Head could have easily rivalled the best of them.
But let's get back to Bunny Lee...
The producer provides further evidence on this set that he was "slacker than them" with his productions of 'Bed Work' by Nardo 'Barup' Ranks (accompanied by Princess) and Tullo T's 'Tempt Me' and the braggadocio 'Pum Pum Mash Up'. As well as producing hits for the guys Bunny also gave the girls a turn on the mic and the first of his divas is Rachael Sneaking who nominates herself as a 'Cockie Cooler'. Next up is Junie Ranks, who sings the praises of a 'Sugar Truck' and expresses her disappointment to find 'Another Dead Wood', while Nadine Sweetness chants a wicked interpretation of a 'US Pum Pum'. Sister Wendy is next up with two massive tunes that include a second cut to Junie's version of the 'Cherry Oh Baby' rhythm, namely 'Wood In The Ring' and a wicked combination with the previously mentioned Princess on 'Nah Run From It'.
Bit it's Lady P who is the top ranking sista on this set with three tracks. She was initially influenced by Galaxy P, who also features on this compilation performing 'Gal A Weh You Do Me', but it's the Montego Bay-born Lady P who comes on top with 'Wuk Mi Tender' and the feisty 'Feeling Lonely'. The former finds Galaxy's female counterpart offering an earthy adaptation of Elvis Presley's 'Love Me Tender' - a sure fire hit in the dancehall.
Our miscellany of Lady P's hits were all produced by the legendary vocalist KC White, who perhaps is best known for his versions of 'Anywhere But Nowhere' and 'No No No'. Like so many singers in Jamaica, KC White sought independence and branched out into production and among his protégé's are the notable DJ's, Nicodemus Junior and Renegade, both of whom he introduced to a wider audience. As this compilation covers slackness our selection, fittingly features his production of the High Fence Supa Renegade who pays homage to the 'Girl's Headquarters'.
Maintaining his slackness credentials on this collection, the aforementioned Bunny Lee is sometimes cited as having launched Tapper Zukie's career as both a DJ and producer. As a performer the DJ revisits his popular '(She Want A) Phensic', which brings the song bang up-to-date in a raunchy ragamuffin style. As a producer, Tapper recruited Reggae veterans Max Romeo (to record a Dancehall mix of his international hit 'Wet Dream'), as well as Dillinger whose 'Stiff' still stands head and shoulders above the rest.
Tapper also recorded lesser-known DJs although Chinnaman, who provides 'Professional Love' and a new description for the ladies special place 'Buffesha', might be remembered for his take on the 'Bam Bam' riddim known as 'Wha Lef'. In the meantime, Taxi DJ Dollar Fifty, Sheriff and Ninja Flowers drop a 'Wicked Way Fe Kiss', 'Run Punani' and 'Gum Pan' respectively. Our final look at Tapper in the production seat is with two DJs who went on to enjoy a brief spell of notoriety, the first being 'Stone Love' favourite Squiddly Ranks, whose 'Fuckist' is sure to warrant a parental warning, as will his celebration of the extra-staying power in 'Stone', a remedy derived from tree sap. Meanwhile, the unique Reggie stepper chants his trademark "eurgh" on the wonderful 'She Can Tek The Sting'.
As with the previously mentioned Beenie Man, our next performers have enjoyed crossover success on the international stage - in fact they topped the pop charts twice in the UK with the hits 'Tease Me' and 'Twist And Shout'. The international successful duo celebrated as Chaka Demus & Pliers here perform 'Horney Horney', the title of which may have inspired Mousse TV's club favourite, but fortunately the similarity ends there. One of the Duo's first hits was produced by Ossie Hibbert, who also produced our final diva Sister Charmaine McKenzie on 'Matie Fret', a song that deals with the uncertainty bought about through infidelity.
Moving on...
Jah Thomas has relished a series of hits both as a producer and as an MC. As a producer he recorded Clement Irie who performed the wicked 'Agony', while alongside Jackie, Jah T gives us 'Cockie And Pussy' inna Dawn Penn stylee. Performing under the appellation of Jah Thomas would suggest the DJ erred toward the subject of spiritual matters, something for which Lieutenant Stitchie is now renowned. In Jamaica they call him 'The Governor', a name earned through recording a stream of humorous and lyrically inventive hit songs, such as the wickedly funny 'Tickle Me Fancy' that demonstrates his joie de vivre.
Another DJ whose pseudonym would suggest roots and culture leanings is Gospel Fish who in spite of his mantle could undoubtedly claim to be "slacker than them". Our featured tracks are the outrageous 'Punani Fi Smell' and the spirited 'Punani War', both of which, I make no apology for reiterating, are a clear reminder of the need for parental guidance!
And it doesn't end there...
Joseph Jackson aka Ranking Joe began his career on Dennis Alcapone's El Paso sound system and was soon waxing hits as Little Joe at Studio One. He later recorded with a host of Jamaican producers before producing the album 'Dub It Inna Dance' (TJCCD224). The title track substitutes 'Dub' with 'f**k' and the DJ keeps up the momentum when he chants 'Cocks Man', 'Slackness Style' and a message to 'Mr Walker', who must've been delighted to hear of Joe's intentions, especially after Derrick Morgan and a host of others had announced theirs.
And finally last, but by no means least, is the celebrated albino DJ Winston Foster, better known as Yellowman, the slackest of all DJs, who built a huge following once he'd managed to overcome a certain amount of prejudice. He was a master of self-mockery and released a slew of ironic tunes about his prowess in wooing the ladies. Unsurprisingly, he features on three tracks on this set, the first being the sublime 'Do Me' (on which he is joined by Cecile), a song that echoes Beenie Man's 'Wickedest Slam', although Yellow and partner prefer the floor to a van. He is also joined by the gravely voiced Silver Cat from the Shocking vibes posse for the wonderful 'Run cum Cum', while as a soloist he performs the impish 'Want A Virgin' and the calypso-styled 'Bump And Whine'.
So there you have it - a brimful of songs to provide a swinging soundtrack to the wickedest and wildest bashments. And if anyone knocks the style, simply quote the yellow fellow who once said "slackness is we make love and if the lady get pregnant it's baby. So slackness bring everybody here". He also said "I don't call it slackness, I call it entertainment" and in response to the politicians protestations that the music is crude and offensive, he argued "What I call slackness is what the road want fix, and they get the money to fix it and don't fix it" - statement to which this writer can relate after driving through Mandeville and losing a tyre to a pothole. But that's another story.
So when it comes to the slackness style play it 'til you want no more.
Stephen Nye