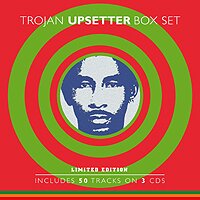 TROJAN UPSETTER BOX SET (TJETD021) - Lee 'Scratch' Perry is a unique individual, blessed with a singular talent and artistic vision that has changed the very way we think about music. One of the few creative forces in popular music to truly deserve the title of living legend, his contribution to Jamaican music is immeasurable. He is also a highly contradictory figure who inhabits an extraordinary spiritual universe, which seems largely of his own making.
Though he once claimed to come from Jupiter, his earthbound arrival came in the rural town of Kendal in 1936, where his father was a road contractor and the rest of the family worked the land; money and food were perpetually short, and existence defined by a ceaseless toiling. Lee dropped out of school at age fourteen, preferring to frequent domino tournaments, his mastery of wild dance steps then brought him fame at competitions held in the surrounding parishes. Towards the end of the 1950s, Perry was a tractor driver, assisting in the development of Negril; he married a woman of Indian descent in the town of Little London and was Baptised in the Church of God, but ultimately heeded the mysterious voices that told him to take up his musical calling by travelling alone to Kingston circa 1961.
Duke Reid was then the reigning champion of sound, but Reid only wanted to take Perry's lyrics and use them for better established artists, so 'Little' Lee joined forces with Coxsone Dodd, who was then something of an underdog; the more democratic nature of Coxsone's set up was clearly preferable. "I'll never be a big man", Perry explains, "and I wasn't with Duke for that long, because you couldn't take the pressure with Duke. He's a boss, but there was no boss around Studio One".
Scratch got his start as a 'handyman', and progressed to talent scout and auditions supervisor; he also voiced dozens of songs at Studio One. In 1966, he broke away to freelance, forming brief alliances with Prince Buster, WIRL, Joe Gibbs, Clancy Eccles and Lynford Anderson, before establishing the Upsetter label as an independent producer in 1968. Trojan records started issuing his product in England soon after, forming an official UK branch of the label the following year.
'People Funny Boy', Perry's revolutionary hit, paved the way for the emerging Reggae sound in 1968; the instrumental 'Return Of Django' became a UK chart hit in late 1969, bringing Scratch and his band for a lengthy European tour and an appearance on Top of the Pops. Other hits followed, typically organ instrumentals inspired by spaghetti westerns and horror films; Dave Barker also scored hits as a vocalist inspired by James Brown. These new levels of prestige brought Scratch enough cash for a Jaguar, and a new home for the growing family he was building with partner Pauline Morrison; they moved to Washington Gardens, a lower-middle-class suburb, on the western edge of Jamaica's capital.
After producing what many believe are the best songs the Wailers ever recorded, in sessions conducted at the famed Randy's studio, Lee Perry became one of the in-house producers at Dynamics in late 1971, where notable material was cut for Junior Byles. The following year, Scratch began exploring the contours of Dub with King Tubby at the sound system operator's tiny re-mix premises in the Waterhouse ghetto. But Perry was tired on having to rely on the facilities of others, and began scouring Kingston for a suitable place to build his own in 1973.
He is said to have searched long and hard without success, until a vision showed him the way. In the small yard behind his house was a large Lignum Vitae, a tree with deep green leaves that releases a distinct odour at Christmas time. In fact. Legend has it that while he was dozing beneath the tree one night, spirits spoke to Lee Perry, making it clear that he was resting in the exact spot on which his studio was to be built. Scratch hired Bobby Aitken, leader of ace rock steady act the Caribbeats, to supervise the construction; Aitken says it took three months to build.
The creation of the Black Ark studio began a new period of enthusiasm and optimism for Lee Perry. Now all he had to do was literally step into his backyard to begin channelling his creative ideas. Though recordings were made at the Ark by December 1973, the studio was a rudimentary facility then, and the early works that surfaced from it are marked by the limitations of it's minimal equipment. It's initial mixing desk was an Alice, a small machine with limited capacity that Perry picked up on one of his trips to England. "I don't think my mixer, the Alice, cost me even £35", Scratch chuckles, "It was for radio station balancing, or maybe like a PA system; you couldn't start a studio with that, but we were using them. Those were domestic machines they weren't professional machines, they were only toys".
The studio wiring was installed by Errol Thompson, one of Jamaica's most talented engineers, but Perry adamantly insists that he alone could make the equipment work, and that Thompson was unable to comprehend the way it functioned despite having wired it up. "Not even Errol Thompson who build the studio can't do nothing in there, he don't know what to do. Even the great Tubby's come in there and don't know what to do". This limited gear greatly shaped the quirky sound of early Black Ark material. A shortage of microphones meant the Silvertones had to voice most of their album elsewhere; Leo Graham's early Ark recordings have sparse backing.
Though only functional for about a half-dozen years, the Black Ark was the site of Perry's more significant creations; indeed, some of the most wondrous and striking sounds ever to emerge from the island of Jamaica were recorded in it's interior. The techniques Lee Perry pioneered at the Black Ark are still being emulated by dance music producers, and successive generations of music fans continue to be drawn to the works he created there on a four-track Teac.
Perry has said the Black ark was conceived as an antidote to the Caucasian myth of Noah's Ark; symbolically likened by Perry to the Ark of the Covenant, it was to be a sanctuary for black Rastafarians somewhere joyful music could be made unto the Lord of unmitigated terms. The first substantial hit to emerge was "Hurt So Good"; a cover of Millie Jackson's masochistic hit, voiced by Susan Cadogan, a librarian at the University of the West Indies. The song was not particularly successful in Jamaica, but took off in England after disgraced pop mogul Jonathan King brought it to the Magnet label; as the material had been sub-licensed from DIP, one of the companies handling Perry's product in the wake of Trojan's voluntary liquidation, Scratch gained little direct financial benefit from it's success, though the deal enabled Perry to install new equipment that would greatly enhance the Ark sound.
In 1976-77, Island issued brilliant Perry-produced albums by Max Romeo, Junior Murvin, George Faith, the Heptones and Jah Lion. But in 1978, the harmony began to noticeably dissipate when the label declined to issue several significant album works, including the debut by the Congos, perhaps Perry's strongest production of a vocal group.
Meanwhile, the long hours of work were beginning to take their toll, and the endless series of disappointments heightened Perry's dissatisfaction and confusion. His behaviour was becoming increasingly extreme, especially when fuelled by rum, but still the tapes kept rolling. Scratch entered a new phase centred on graffiti, painting cryptic proclamations on the wall of his studio; in time , entire wall would be covered with nothing but the letter X. Spending many a day building junk-sculpture fetishes in the yard and enacting obscure rituals, Perry antagonised all who would appear there, after tensions arose during a new religious project initiated with members of a Niyabinghi order.
By the end of January 1979, the Black Ark was entirely devoid of visitors. Though the mixing desk and tape machines were still connected, the studio became little more than an abandoned shell covered in words; despite retaining a basic functionality, it had virtually ceased to exist. Though American expatriates based in Holland tried to revise the studio by installing new equipment specified by Scratch, Perry ultimately ejected them and threw most of the equipment into his toilet pit.
After spending much of 1981 recording and performing in New York, Scratch returned to Jamaica and spoke of re-activating the Ark. Instead, in the early hours of a summer morning in 1983, the studio received a baptism by fire, in which much of it was totally destroyed. Perry then cut a mediocre album in Nassau for Island, and subsequently moved to London in late 1984.
His first new album to gain release was Battle Of Armagideon on Trojan. Despite the upsurge in popularity this comeback album brought, all was not harmonious between Scratch and the company: in the late 1980s, as Perry was completing a follow-up disc, he engaged a barrister and nearly took the company to court over back-catalogue royalties, considerably delaying the release of the new material; eventually, after Perry and Trojan came to a mutually satisfactory agreement, the album was finally issued as On The Wire in 2000.
At the end of the 1980s and into the 1990s, Lee Perry's star was firmly on the ascendant. After high profile collaborations with Adrian Sherwood and Simply Red, Perry moved to Switzerland in 1989, initiating a new family with his wife and business manager Mireille, whom he wed in a Hare Krishna temple. As belated media attention drew focus to Perry's innovative past, a series of new recordings and world tours with creative partner Mad Professor kept Perry's name in the limelight for much of the decade, and collaborations with the Beastie Boys brought Scratch to a whole new audience in America.
Though already in his mid-sixties, Perry continues to innovate: his latest release, Jamaican E.T. has three voices conversing at once, an extension of the double-voice technique first used on U-Roy's 'Earthquake', in 1971. At an age when lesser talents would have long ago thrown in the towel, Lee Perry shows no sign of giving up. He remains the upsetting Upsetter; uniquely driven to create exciting sounds.
Dave Katz
Dave Katz is author of People Funny Boy: The Genius of Lee Scratch Perry, published by Cannongate books.
Compiled by Dave Katz